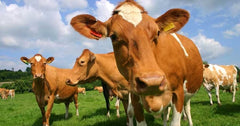 Here at The Naked Butcher, we pride ourselves in providing our customers with the highest quality, ethically produced organic and free range meat in Western Australia. 
What makes our products better than any other organic products found in supermarkets & butcher shops?
We believe that standing out from the crowd all begins with our growers.
There are a number of organic and free range farmers across Western Australia. Some of these farmers just maintain the minimum requirements to hold their organic certification, whist others go above and beyond as ethical farming is their passion. For us at The Naked Butcher, it is important to us that the growers we choose share the same beliefs us.
Our beliefs:
That all animals are raised in a humane and ethical manner and are treated with the utmost respect, even once they are at the abattoir

Sustainable farming that does not use any pesticides or herbicides

Ensuring the animals are brought up on a completely natural diet, consisting of no hormones, antibiotics and other harmful ingredients

That the animals are naturally happy, healthy and stress free, because we believe an animal that has lived a happy life tastes best
Before a growers produce reaches our butcher shop, we go through a selection process that ensures the meat is of the highest quality possible and aligns with our beliefs.
Selection Process:
During our initial introduction with a grower, we set up an in depth discussion that allows us to get a thorough understanding of who they are, their product and their beliefs. During this meeting, we ask the grower to provide us with all organic and free range certifications, what their beliefs are and any other questions that are necessary to determine if their product meets our standards.

If after the in depth conversation we decide that a growers beliefs and quality of product align with our beliefs and standards, we will then set up a time to visit the farm in person. These visits are crucial to ensure that: a good relationship is established between us and the grower, the animals live in humane conditions, that all organic or free range accreditation requirements are being met and that we can see our own beliefs and morals reflected in their farm.

Only after a grower has met all of the above requirements will we use their product. We regularly keep in contact with the grower to ensure a great relationship is maintained and also visit the farm a number of times throughout the year to ensure that the grower is consistently meeting all of the above requirements.
All of the products at The Naked Butcher are produced in a 'Caveman' approach, meaning that everything is kept as natural and true to nature as possible and is completely free from hormones, preservatives and all other nasty ingredients. We believe that our intensive screening process, great relationships with growers, produce that has been handled in a ethical manner, our beliefs, our naturally made products, passion for butchering and butchering skills are all part of what makes us stand out from the crowd.