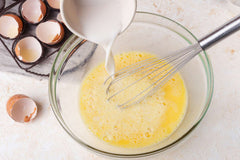 At The Naked Butcher, we believe that the quality of our products depends on the quality of our ingredients. That's why we go the extra mile to source the freshest and cleanest ingredients for everything we make, including our batter mix.
Unlike many conventional butchers and supermarkets, we do not use instant batter mixes that are loaded with preservatives, fillers, and gluten. Instead, we make our own batter mix from scratch, using only the finest ingredients available.
Example instant batter mix:
The batter mix we use in store for all of our crumbed products is made with two simple ingredients – free range eggs from Treeton Hill Farms and free-range milk. These ingredients are whisked together to make our silky batter, which serves as a binding agent for our gluten free crumbs to stick.
By using a homemade batter mix, we can ensure that our crumbed products are gluten-free and free from harmful additives, which is especially important for our customers with dietary restrictions or allergies. And by using free-range eggs and milk, were also supporting sustainable and ethical farming practices that benefit both the animals and environment.
So the next time you're craving a delicious and healthy crumbed product such as schnitzels, make sure to visit The Naked Butcher at www.thenakedbutcher.com.au. Our crumbed products are sure to satisfy your taste buds, without compromising your health or the environment!